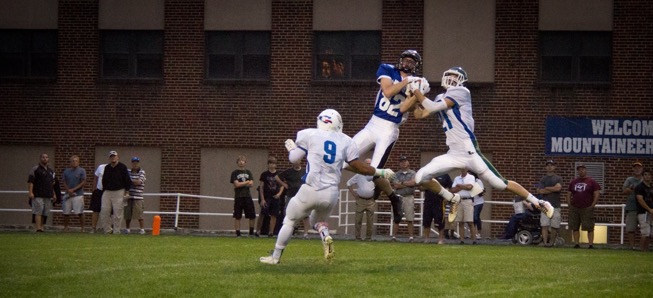 Jersey Shore and Montoursville never before worked together so well.
The long-time rivals made super teammates Friday at South Williamsport's Rodney K. Morgans Stadium and helped produce one of the best District 4 All-Star games ever played. Montoursville/North coach J.C. Keefer, a Jersey Shore graduate, made some moves this week, adding Jersey Shore two-way starter Travis Bradley to his roster. And oh, did the move pay off as both teams temporarily put the rivalry on hold.
Bradley threw a 61-yard touchdown pass and intercepted two fourth-quarter passes and while Montoursville running back Keith Batkowski caught a game-winning 13-yard touchdown pass as the North edged the South, 28-21 and won its second straight in this annual all-star game. Bradley earned game MVP honors and his first interception set up Batkowskiás go-ahead score.
"Coach Keefer pulled some strings to help me play and I wasn't going to let him down," Bradley said. "The best part of this game was guys coming together and realizing that while we might have played for different schools we're not different at all. There were so many great leaders from all the schools and it was awesome to see so much desire and winning attitudes in one place."
Both teams put on quite a show, trading big plays and touchdowns all night. The lead changed hands five times, no team ever led by more than seven and the North made a last-second stop, forcing a game-clinching fumble after the South had moved to its 34-yard line.
Batkowski scored the winning touchdown with 8 minutes, 59 seconds remaining after Bradley made his first interception, jumping a sideline route at the South 45 and returning it 15 yards. Batkowski, Montoursville's all-time leading rusher and a two-time all-state selection showed why on the ensuing drive providing 24 of the 30 yards and going air born to put the North ahead.
Batkowski, who will play at Lycoming in the fall, started the game-winning play by catching a seven-yard pass at the 6-yard line. He took over from there, shaking off a defender, running over another player and making a fully extended dive into the end zone.
"I saw two guys in front of me but the end zone was right there and I really wanted that score and it was just an example of how every one on this team played with so much heart," Batkowski said. "Everyone did their job. That's what it came down to. When everyone does their job you win games."
Hughesville's Wyatt Spring had an electrifying kickoff return moments later, but Bradley ended that drive when he made a sensational juggling interception along the sideline. All-state Southern Columbia quarterback Nick Becker was trying to hit all-state Selinsgrove running back with a deep throw inside the red zone, but Bradley covered good ground, leapt, knocked the ball loose with one hand and caught a second later at the 9-yard line.
The South had one last chance, starting at its 31-yard line with 2:05 remaining. Lewisburg's Matt Fedorjaka made a diving 10-yard catch on a 4th-and-3 at the 50 and added a six yard catch a play later. But those were the last yards the North allowed. Two incompletions followed and the defense nearly buried Schlegel on fourth down, forcing him to try a falling pass that resulted in a fumble since it went backward.
"It was a pretty even game and the South has a great team, but it came down to who wanted it more at the end," said Batkowski, who provided good coverage on the last drive. "We reached down and got the job done and it was a blast."
So will Bradley. The quarterback/safety will attend Penn State in the fall so last night was his last high school sporting event. He sure made the most of it, changing the game's complexion not just in the fourth quarter, but also in the first when he threw a go-ahead 61-yard touchdown pass to Athens Austin Lister.
The South had scored on its previous possession and forced the North into a 3rd-and-19 when Keefer called on Bradley offensively for the first time. He again made Keefer's move a brilliant one. Bradley took advantage of excellent blocking up front, and made a perfect deep throw to the 6-foot-5 Lister who caught it near the 20-yard line and went untouched the rest of the way, putting the North up 7-6.
"Lister is a big tall kid and when I got in there and saw he had a smaller kid covering him I just told him to turn and burn because I was coming his way," Bradley said. "He ran a perfect route and you could feel the surge of energy. It was perfect protection. I couldn't ask for a better job from the line and they carried us the rest of the game."
Troy's Ben Sherman scored on the North's next possession, increasing the lead, but Shikellamy's Shawn Turber caught two long touchdown passes and gave the South a 21-20 third-quarter lead. Turber scored all three South touchdowns on long passes, finishing with nine catches for 172 yards and three touchdowns.
Loyalsock's Nate Rainey earned Defensive MVP honors, making six tackles and ending a third-quarter drive with a sack. Montoursville's Ben Cerney had two sacks and fellow Warrior Holden Lodge added another as they combined to end a first-half drive. Muncy's Jordan King and Loyalsock's Kardale Taylor forced punts with outstanding open-field tackles and Muncy safety Cameron Good may have saved a long third-quarter touchdown when he made a made a nice one-on-one play against Batts.
"It was a tough game and there were times you look around and wonder who is going to make a play and the great thing about this team is that all 11 guys on the field were ready to make that play," Bradley said. "They were going all out to make the plays and that's what won us this game."
Bradley put the North up 20-14 in the third quarter, again delivering on 3rd-and-long and hitting Lister for 34 yards. Montoursville and Loyalsock players came together on that drive as well with Loyalsock's Christian Diggs catching two passes and both Batkowski and Cerney making key plays.
"It's crazy because it feels like we've played with all these guys all our lives, that's how close we became. They are all good friends," Batkowski said. "I'm so glad I played. I'll remember this game for a long time."