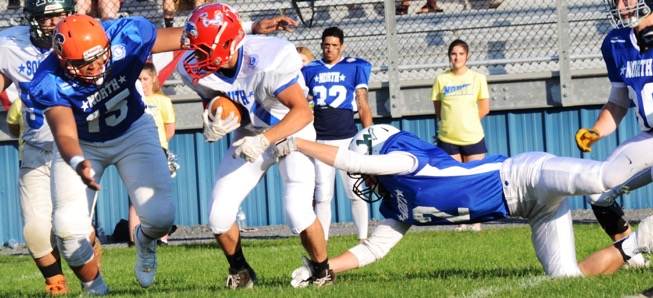 Before players like Isaiah Hankins and Elliott Walker came along, Williamsport lost a lot. It was the same story at Jersey Shore before players like Tyler Smith arrived. Now both those programs win a lot.
And one last time, those players reminded a District 4 audience exactly how good they are and how good they helped their teams become. Hankins and Walker were virtually unstoppable and Smith was a defensive force as the North took a big lead, held off a furious comeback and defeated the South, 37-29 in Saturday's South Williamsport Lions Club District 4 All-Star Game at Rodney K. Morgans Stadium.
Hankins earned game MVP honors, throwing for 300 yards and four touchdowns. Walker was a matchup nightmare, catching five passes for 163 yards and three touchdowns while winning the Offensive Player of the Game Award. Smith and North Penn-Mansfield's Joel Whitteker were Defensive MVPs with Smith intercepting a pass, making two tackles for losses and essentially living in the South's backfield.
These are the kinds of players the Williamsport and Jersey Shore programs are producing now. Why both teams captured district championships last fall was apparent all night.
"We wanted to show everyone what Williamsport football is all about," Hankins said. "We wanted to show we have some really fine athletes."
"It's nice because when I was in elementary school and middle school growing up you'd see us go 0-10 or winning one game. Then you get these great coaches coming in my freshman year and they win the first district championship since 1997 and then another with my team this year so it's just an honor to get to states," Smith said. "It's something most teams don't get to experience so it was a joy to be a part of that and an honor to be selected to play in this game."
Williamsport went 12-2 last fall and romped to both the District 2-4 Class AAAAAA championship and the state quarterfinals. Hankins and Walker earned all-state honors and were part of an offense that led the state in yards through 13 weeks. The South lived the nightmare that was defending those two as Hankins and Walker connected on three touchdowns through the first 2 1/2 quarters that gave the North opened a 30-7 lead. Any time Walker was on the field, the North offense went into a different gear. He caught a 74-yard touchdown pass on the game's third play and beat a defender late in the second quarter with a double move while catching a 28-yard touchdown that put the North up 23-7 at halftime. Walker, who totaled 197 yards when adding in his rushing and kick return yards, burned the South again midway through the third quarter. This time, the Lock Haven-bound receiver caught a pass near the line of scrimmage, exploded through a hole and outran nearly the entire defense for a 44-yard touchdown that made it 30-7.
"There were a lot of talented players but when you have a dynamic duo like me and Isaiah it's really hard to stop," Walker said. "They tried everything they could. It's always fun playing with that brotherhood. We're alumni now and we laugh about that, but it's always good coming out and playing with these guys."
Hankins will play at IUP next fall and owns nearly every significant Williamsport single-season and career passing record there is. The Sun-Gazette Player of the Year dazzled again in his final high school game, completing 13-of-22 passes while also leading the team in rushing and totaling 337 yards. And like he did throughout his career, Hankins elevated his performance when the pressure mounted.
Led by Southern Columbia's Cameron Young and Hunter Thomas, the South made a furious second-half comeback. Young, making his first-ever start at quarterback, threw for 159 yards and ran for 111 more while accounting for three touchdowns. Thomas ran for 135 yards and a touchdown while catching three passes for 98 yards and a score. Thomas scored on an 80-yard catch and a 60-yard run and two fourth-quarter Young touchdown runs twice pulled the South within eight.
Hankins, though, calmly led a six-play, 69-yard scoring drive after the South had made it 30-22. He ran for 28 yards on three runs, brilliant evading rushers. He then showed off his arm one last time, throwing a pretty 55-yard touchdown pass to Loyalsock's Marcus Williams. Hankins hit the Lock Haven-bound receiver in stride and Williams outran his defender into his end zone as easy as he beat him on his route. Just like that the North led 37-22 with 5:24 remaining.
"I don't do anything and not try my best and win at it," Hankins said. "Yes, it's an all-star game and we want to have fun, but I came here to win. That was my mentality. I'm just a competitor."
The South pulled within 37-29 when Young scored on a late 1-yard touchdown run. The onside kick attempt, however, sailed out of bounds and with no timeouts and just 1:43 left, the North could spend the final moments celebrating a third straight win in his annual All-Star game.
Smith played a big role in helping the North earn that win and combined with Williamsport's Ross Stebbins and Keough Johnson (two sacks) to repeatedly give the South offense problems. Smith made his best play in the first quarter when he snuffed out a South drive with a pretty interception at the North 40-yard line. As the play developed, Smith first flushed Young outside the pocket. Stebbins then nearly sacked him as Smith dropped into coverage and caught a hard throw across the middle. Smith also caught the game-winning touchdown pass in the final minutes against Central Mountain last fall and showed again that he has a knack for finding the football.
"I came across the field and I thought I was going to get the sack and then he cut back really hard and Ross from Williamsport forced the pass," Smith said. "I saw him look my way so I knew there was someone behind me and I figured he wasnát going to lob it up. I knew that was my chance and kind of got greedy with it."
The North defense forced four turnovers and Johnson made an impressive hustling play to force a fumble on the second-half kickoff that Montoursville's Nolan Ott recovered. Warrior teammates Torin Lewis and Bryce Ranck made some big plays in the second half, Whitteker made a team-high seven tackles and Stebbins had two tackles for loss while adding three hurries.
Walker and Williamsport tight end Jalen Jackson caught six first-half passes. Loyalsock teammates Williams and Alden Mileto also played strong games and that quartet will join forces at Lock Haven this fall. Lock Haven has not had a winning season since the Jimmy Carter administration but it has a hungry and talented area group ready to try and help it break through. And Walker now has a chance to put together quite an encore after helping revive Williamsport's program.
"The guys up there say they hear that (about losing) every year," Walker said. "My high school career was kind of a Cinderella story and I think we can do the same thing at Lock Haven."
The South likely concurs.