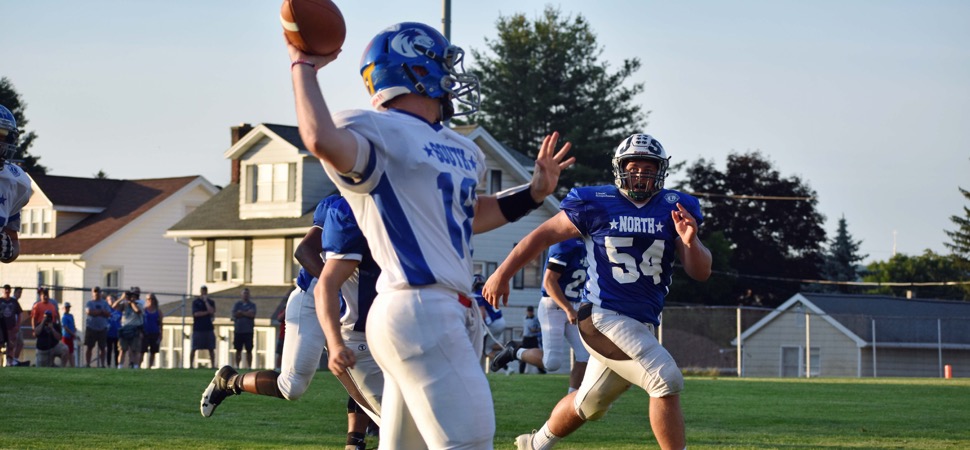 Logan Leiby already owns District 4 career passing yardage and touchdown records. Might as well break some more records in his last high school game, too.
Leiby threw for a first-half record 249 yards and five touchdowns Friday night at Rodney K. Morgans Stadium, earning Most Valuable Player honors and leading the South to a 63-20 win against the North in the District 4 All-Star Game. The two-time all-state Selinsgrove quarterback broke first-half yards and touchdowns records, helping the South open a 21-0 lead less than five minutes into the game as it snapped a three-game losing streak in this series in emphatic fashion.
"It was awesome," Leiby said. "To go out and play with all the kids from different schools and come out and kind of annihilate a team and go out and throw the ball all around the field, I enjoyed that."
Leiby shattered single-season district records for yards (3,774) and touchdowns (42) last fall, helping Selinsgrove capture the District 4 Class AAAA championship and reach the state quarterfinals. He showed how throughout the first half, completing 9 of 12 passes with nearly every completion hitting the receiver in stride and in the numbers. He opened the game by throwing a 53-yard touchdown to Selinsgrove teammate Ricky Cope and added 15-yard and 19-yard scoring strikes to Brenden Cregger and Jarett Inch on the next two series.
More than seven minutes remained in the first quarter and Leiby already was 4 for 4 with 116 yards and three touchdowns. It was an early assault as the South scored those three touchdowns on five plays in just 86 seconds. The North twice made it a 14-point game but never could overcome that early attack. Leiby later threw second-quarter touchdowns to Eric Foust and Cope (4 catches, 122 yards) that made it 35-14 at halftime. Inch and Cope both had big seasons last fall and it looked like it was November again as the three teammates picked up where they left off.
"All my wide receivers did a great job getting open so at that point it's just me trying to put balls on them," Leiby said. "Ricky and Jarrett are ridiculous athletes. To come out here with them and have the connection we did in high school was super fun. Coach (Marc) Persing was super cool about it. Whenever my (Selinsgrove) guys were in, he just kind of let me call the offense and call my own plays."
Despite having just 24 players, the North did a nice job making its own big plays. Jersey Shore quarterback Elijah Shemory played an excellent game, throwing for 288 yards and running for a score. North MVP Dylan Wesneski set an all-star record, catching 13 passes for 143 yards and a touchdown. The North Penn-Mansfield standout was one of several receivers who made good catches and helped the North cut the deficit to 21-7 and 28-14 in the second quarter.
Shemory and Wesneski will both play at Lycoming this fall and displayed excellent chemistry. Shemory's 5-yard touchdown run and Wesneski's 6-yard touchdown catch had the North thinking comeback when it was 28-14 late in the first half, but Leiby's 29-yard touchdown to Cope felt like a dagger entering halftime. That went double on a night when the temperature at kickoff hovered near 90 degrees and most North players had to play both ways.
"It was exhilarating to come out and play again. It was fun getting to know all the guys in the surrounding areas, too," Shemory said. "We didn't have as many guys as we'd like and the heat hurt us, but we played hard. For al lot of the guys it's their last games so they're coming out and giving 110 percent and not stopping. They're playing hard and playing well."
Shemory set Jersey Shore passing records the past two seasons and Wesneski had a big senior season for North Penn-Mansfield last fall. Those two did a nice job sustaining drives and a spectacular 24-yard reception from Loyalsock receiver Brock Hepler on a 3rd-and-13 ignited the North's initial scoring drive. Montoursville's Anthony Washington (3 catches, 53 yards) also made some quality catches while also earning North Defensive MVP honors and Muncy's Colby Alpaugh, a Coach's Award winner, caught two passes for 47 yards as the North took its best shots against a loaded defense.
"It's man to man coverage, so you can just throw it up and hope for the best and they made plays," Shemory said. "They made me look good."
Montoursville linebacker William Dewald looked mighty good in the third quarter when he scooped up a fumble, blew past a series of would-be tacklers and sprinted 85 yards for a touchdown. The South still led 49-20 following the touchdown but the play highlighted how a resilient North team kept fighting.
After Leiby shredded the North with his pin-point passing, he watched from the sideline in the second half as the South utilize its running game and clinched the win. Gabe Tilford (114 yards) scored on touchdown runs of 55 and 11 yards while Shamokin's Devin Pietkiewicz made maybe the game's most impressive play, smashing through a defender five yards past the line of scrimmage and breaking away for a 66-yard touchdown. Selinsgrove's Tony Dressler returned a blocked punt following a bad snap 21 yards for another score and the South matched an all-star record with its 63 points.
Leiby did return to the field for the game's final two plays, but took knees both times. His next stop is Bloomsburg University where he could make quite an impact if Friday was any indication.
"It's never bad to come out here and just show what I have and come out and show what I can do as a teammate," Leiby said. "I'm out here just playing with my friends and friends I made during the week and I'm super excited to play at Bloom."
Shemory made some super throws as well, but the North had trouble finishing promising drives throughout the second half. His high school career is now over, but he did a nice job putting an exclamation point on one that included a district championship, 54 touchdown passes and two all-state selections.
"It was fun to have one last high school game," Shemory said. "If I could do it over again I would definitely play again."